Jane Austen nasconde ancora oggi tanti segreti, e uno su tutti è sicuramente quello riguardo alla sua morte, avvenuta a Winchester il 18 luglio 1817 a soli 42 anni.
Tanti studiosi hanno tentato di svelare la causa del decesso di questa grandissima scrittrice e per molto tempo si pensò che il
morbo di Addinson
fosse l'origine della prematura dipartita della Austen.
A rivalutare il tutto ci pensò la ricercatrice dell'Addison Disease Self Help Group,
Katherine White
, dichiarando che la morte fu causata da
tubercolosi bovina
, dovuta al latte non pastorizzato. La White arrivò a questa conclusione studiando gli ultimi scritti dell'autrice, accorgendosi che la Austen non presentava quelli che sono sintomi tipici del morbo di Addinson.
Chawton House
Per lo stesso motivo si crede che anche la teoria del
linfoma
, ipotizzata dalla biografa
Claire Tomalin
, non possa essere valida.
Placca commemorativa al n. 8 di College Street, Winchester
Altri studi, formulati dalla scrittrice
Lindsay Ashford
, vorrebbero come colpevole del decesso della Austen, l'
avvelenamento da arsenico
. Ai tempi dell'autrice, infatti, era d'uso comune somministrare medicinali a base di questa sostanza, molto nociva per la salute.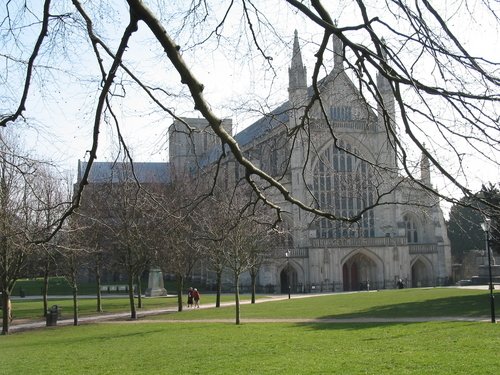 Winchester Cathedral
Targa in ottone, Winchester Cathedral
Quale sarà la verità? Tante teorie ma nessuna certezza.
Anzi, una cosa certa c'è: la nostra cara Zia Jane rimane una degli esponenti massimi della lettereatura dei suoi e dei nostri tempi, regalando a chi legge le sue opere emozioni sempre nuove.
A proposito di emozioni ecco cosa scriveva Cassandra Austen, sorella Jane, il 20 Luglio 1817, alla nipote Fanny Austen-Knight:
"I have lost a treasure, such a Sister, such a friend as never can have been surpassed,- She was the sun of my life, the gilder of every pleasure, the soother of every sorrow, I had not a thought concealed from her, & it is as if I had lost a part of myself…"
Fanny Austen-Knight, by Cassandra Austen
"Ho perso un tesoro, una Sorella, un'amica che non potrà mai essere superata. - Era la luce della mia vita, rendeva preziosa ogni piccola gioia, alleviava ogni pena, mai le ho nascosto un mio pensiero, ed è come se avessi perduto una parte di me stessa."
Grazie di tutto Zia Jane!!!
A presto
Anna